Ernest C. Egoh, Esq., Attorney At Law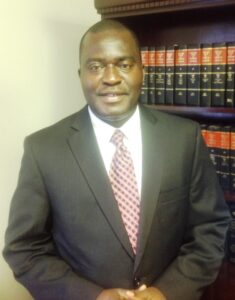 Our Law Firm is headed by Attorney Ernest C. Egoh, a highly experienced Attorney in all areas of Immigration Law including Adjustment of Status, Consular Visa Processing, Business Immigration law/Adjustment through investment, Removal/Deportation Proceedings, Asylum, and Citizenship/Naturalization Application among others.
Attorney Egoh has extensive experience representing clients before the United States Citizenship and Immigration Services (USCIS), in Immigration Courts throughout the United States, and U.S. consulates abroad. He has successfully tried many immigration cases and has repeatedly obtained extraordinary results for his clients by way of favorable verdict; and this he does by using an effective legal strategy and rock-solid legal preparation combined with a keen understanding of the immigrant communities he represents.
Attorney Egoh is focused on finding creative solutions to the most difficult of immigration-related problems. His goal is to make the immigration process as painless for his clients as possible while providing exceptional, efficient and cost-effective legal representation.
His practice handles all areas of Immigration Law, including but not limited to;
Family Immigration (green cards through marriage and other qualifying relationships)
EAD and Work Authorization
Deferred Action for Childhood Arrivals (DACA)
VAWA I-360 Self- Petition
Removal of Conditions on Residence
Business Immigration (temporary working visas, green cards through permanent employment, investor visas EB-5, EB-2 Visas)
Removal Defense (cancellation of removal, "criminal immigration" representation)
Motions and Appeals to the BIA and Immigration Courts in deportation/Removal Proceedings.
Naturalization/Citizenship
Appeals of non-favorable decisions.
Asylum
U.S. Consular Processing
Federal Court Litigation
Attorney Egoh has over 20 years experience in Legal Practice and is a licensed New York Attorney. His practice is based in Atlanta Georgia and because Immigration Law is a Federal Practice, he represents and will represent any Immigrant in or from any state in the United States and or abroad.
Professional Associations
Member American Bar Association
Member State of New York Bar Association
Member Nigeria Bar Association
For a thorough, committed and professional touch to all your Immigration Cases, please contact Attorney Egoh by scheduling a consultation with him. The phone numbers are: Office – (770) 739-1195, Cell – (678) 230-6702. Serving you is our passion.